Post by rainbowfish on Feb 10, 2016 13:20:48 GMT -6
I wrote this piece several years ago for one of the members of my local club. Debbie wanted to know how I make my glass tops for all of my aquariums and especially the hinges which are made out of silicon glue so I decided to dig up some old photos and show you. Also since this site is specifically for rainbowfish (and gudgeons) let me say that if you aren't using a hood of some type to keep your fish inside the tank you're crazy! Rainbowfish jump like crazy and really no amount of plants on the surface is going to provide an effective barrier. It may help but it's not 100% effective. And it's so darn easy to make a glass top there is just no reason not to do it.
I really hate the glass hoods that come with those terrible plastic hinges. I usually make my own hinges out of silicon and buy my glass locally. But if the hinge breaks don't go out and buy another one because it will eventually break too. They are also so wide that they block a lot of light that goes into the aquarium. Making a silicon seal is easy. I didn't invent it, I was taught like a lot of other people in MASI how to make a seal by Ralph Wilhelm. Ralph, for those that don't know was our resident tank fixer. He would repair leaky tanks and could make great glass tops out of the extra glass he had lying around. I would be remiss if I didn't quote his favorite saying: "I'm not cheap, I'm frugal". Actually I like the silicon hinge way better, even if it is a lot cheaper than the store bought hinges. There are a few tricks for "getting it right" though so that you avoid either the lid 1) won't stay open and will slam down perhaps smacking your fingers. or 2) stays up and let's all of the fish jump out and the water evaporate out of your tanks. I run a lot of tanks so it's important that I have lids on all of my tanks to avoid the jumpers but mainly to keep the humidity down in my fishroom.
If you're making your glass hood from scratch measure the inside measurements very carefully. Write it out on your computer, save it and then print out 2 copies. One for your glass man and one for you to check when he's through. Glass is fairly expensive so make sure you get the size that you paid for. For a little bit more money they will "zip" the edges of the cut glass so you won't be cutting yourself. What thickness glass should you use? Sorry I'm going to use "U.S." measurements as that's the only thickness that I am familiar with. If you use mm then you'll have to do the math. For small tanks and tanks up to about 24 inches 1/8th inch thick glass, sometimes called "double thickness" works just fine. For 3' size tanks the standard is 3/16th inch.
Let's start with glass and the old hinges as in the photo below.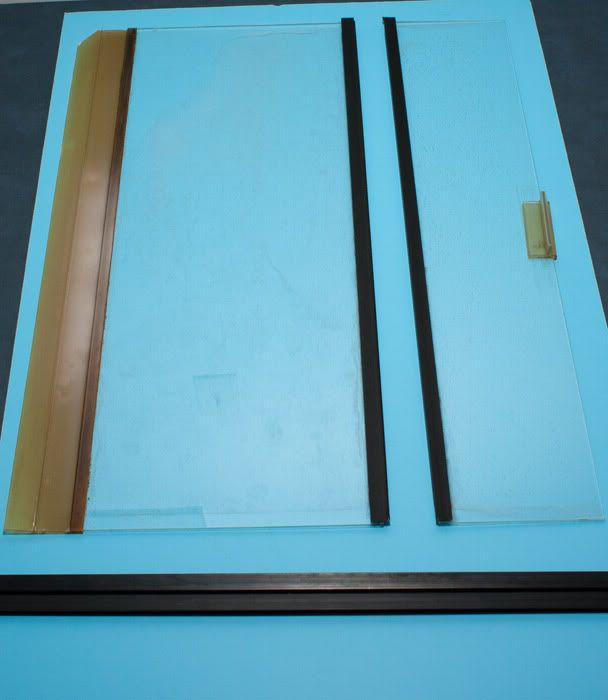 These are the tools that you will need for fixing the broken hinge. Razor blade and holder for removing old hinge. Your favorite cuss words. Start with glass w/o hinge and you will use fewer cuss words. A caulking gun and fish safe silicon glue, a device so that you can measure 90 degrees and 45 degrees. A couple of 2x4's to prop up the glass while the silicon is drying and, most importantly, a beer. Don't open the beer just yet though.
After getting the old hinge off clean the glass really really well and use the razor blade to scrape off all of the glue and gunk. If it's not clean the silicon won't stick or will fall off very quickly and you'll have to do it again. These silicon hinges last usually 3-4 years so you will have to repeat eventually. Use the 2x4's or any other straight items you have to prop up the glass. Note that there is a 90 degree right angle between the two pieces of glass. Get the glass fitting right next to each other, no gaps.
Open the silicon. I usually cut the tube so I have just about 1/4 to 3/8th of an inch of silicon coming out. Use a larger bead for thicker glass. Lay down a bead of silicon from one side to the other. Give your index finger a lick (keeps the silicon from sticking and pulling) and then gently dragging this along the surface of the silicon. This helps to eliminate any bubbles, smoothing out your work and making sure it's stuck to the glass.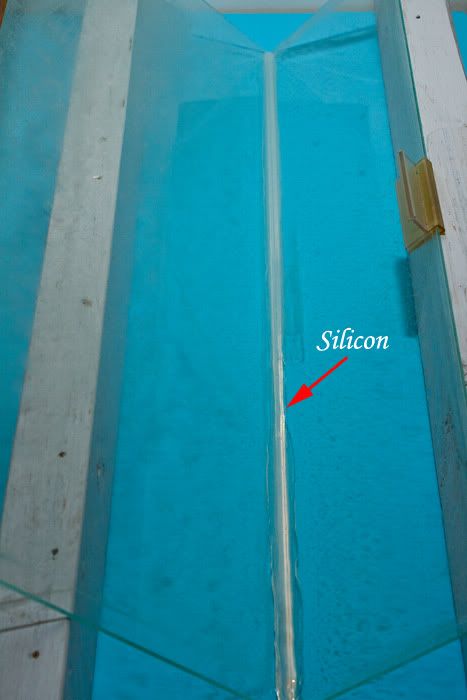 Now this is the important part - Go drink a beer. You need about a 15-20 minute break to let the silicon "rest" and remember this position. If it's really cool then a bit longer. Really warm, then drink your beer faster. Note that I didn't tell you to drink the beer while you were playing with the razor blade this can be dangerous, especially if you have several lids to fix. If you must soda/coffee/water/tea but a good beer is a much better break.
After your break then it's time to GENTLY and CAREFULLY remove the braces/2x4's and lower the glass as in the photo. Let it set this way overnight. Now you can have another beer or two. From what you saved on hinges you can afford the good stuff! FYIW if I'm not using a power filter on the back of the tank and I'm buying/cutting the glass myself I get the glass cut so that it fits the aquarium completely. Then I just cut off the corners a bit so I can just slip a piece of airline tubing thru the crevice. No need to buy those expensive back pieces of plastic either, if you don't want to. You can silicon some pieces of thin plexiglass in places where the filter isn't sticking through. Keep the bows and gudgeons in the tank and you'll be a lot happier.
*** update On the back of my 210 instead of siliconing pieces of plexiglass to the tank I instead glued these tiny strips that could hold pieces of plexiglass. I think you can see it fairly easily from the photos below. These "strips" used to be used to kind of hold reports together so you might be able to get them at an office supply store, I don't know. Several years ago they were tossing out a bunch and work and I picked some up. I was using them to help when I messed up cutting glass tops just ever so short. But they work even better for this purpose.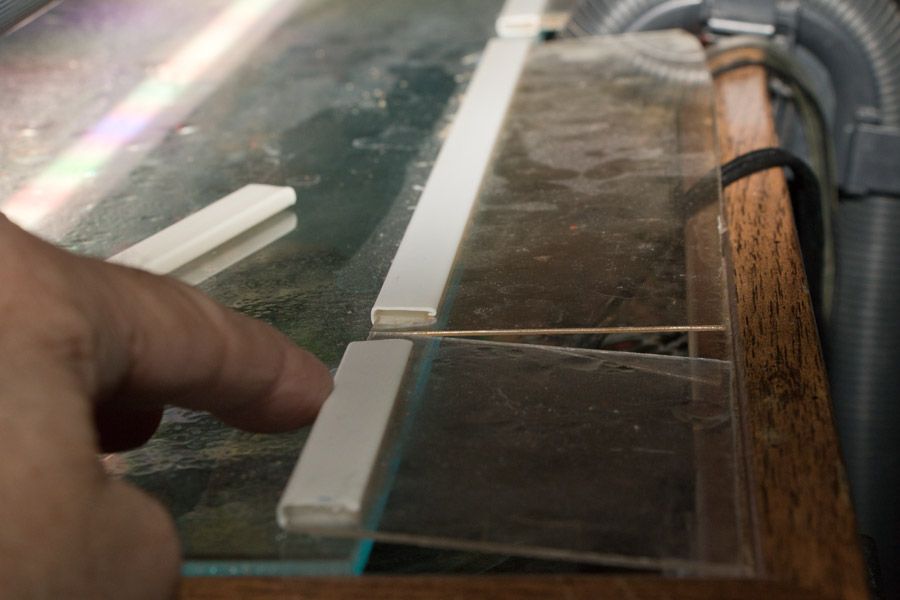 If you are making your own glass tops you will also need to put some sort of "handle" on it to open it. I like to go to the hobby shops like Michael's and use beads for knobs/handles on my aquarium tops. You can see various ones that I use. Not all that fond of the round bead as it's harder to grasp especially with wet hands. I like the unfinished knob especially because it's curved and much easier to grab. Just one of the other fun things you can find at the hobby shop. The other cool thing about making your own lids is that you aren't limited to just 2 pieces of glass. If you have your tanks turned sideways a top with 3-4 pieces of glass is much more convenient. It just takes a few days to finish the top because you have to let each silicon seal completely cure. Anyway hope you can see that in the photo below too. That's a bank of my 20 highs sitting side by side. Hard to look at the fish that way but great for using every single inch of space in the fishroom!