Post by Mark~N on Aug 19, 2018 16:55:46 GMT -6
The perfect Tens....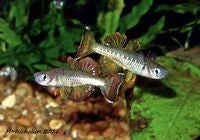 Such an underrated Blue-eye.You put the work in and the payoff is worth it .Not sure why they're not more popular than they are. These are just the typical variety we see here with no known location. Beautiful markings on them and white spots on dorsal and anal fins and white edges on the tails.nice blue marking on gil plate that really stands out.They have been around for quite a long time believe it or not. And they still look fantastic.Especially knowing there has been no new collection. So not much diversity considering generations of brother to sister breeding or even offspring to parent. so, it's best to pay attention to their details and line or selective breed. I choose to use ones that have a well rounded dorsal and anal fins. as my male breeders.. I don't really see too much difference in females. so I just pay attention to body shape .Once in a while you'll see males with less rounded and more straight edged (pic 3).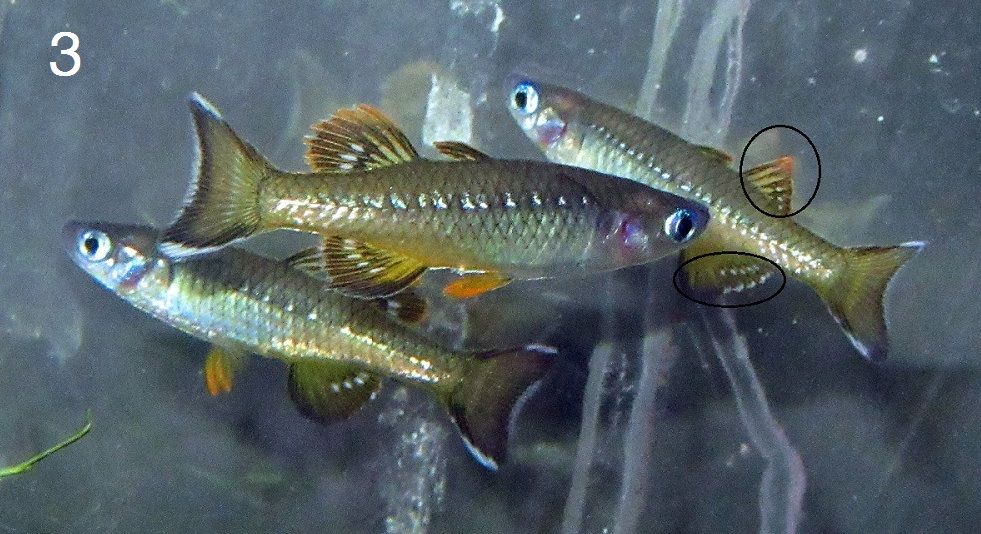 . I don't use them for breeding. After a generation or two you will see a difference. It was brought to my attention that harder water which I do not have they get darker. I've tried all the way up to 340 ppm or around 18 GH. I really did not see any difference in color change as far as being darker. Though in decent hardness their bodies do grow nice and straight and don't bend as much when they're older as they would earlier in soft water. I did notice when they get super excited they get darker. because I have super soft water after a year I start bumping up the GH to keep their bodies nice. I run out of tap. 5 or 6° GH . i'll get it up to around 10 -12°.GH . it helps . Breeding is easy. They like to be amongst others in a larger group. I suggest no less than 8 as they feel more comfortable in a larger groups .contrary to what some believe this fish does not hide. (See Vid) unless the water is cool or unhappy because you don't have enough plants for a comfortable surrounding. If you have tanks to the left or the right block them off so they cannot see other fish. Once they are comfortable they will chase each other the entire day.They do prefer warmer water. I keep in breed them at 80° to 82°F . Pretty good size for a blue eye. when they reach adult.They do like to swim and hang in currents. I like a 15 gallon or 20 longs for a group of 8/10 to 12 /14. Fed good quality foods makes a world of difference. Rarely if ever have I fed flake food. Especially to blue eyes. I like live baby Brine , live Daphnia, chopped frozen blood worms, frozen Brine shrimp, frozen black mosquito larvae,. or whatever little things you can dig out from the pond. They will lay a lot of eggs quickly and the eggs are pretty decent size. Never seen a fertility problem in this fish. you could get hundreds at any given time if kept in the right conditions. probably why this fish has been around and still is for so long. and in such good shape still . if you seen otherwise? It's just because they haven't been taken care of or fed the right things. honestly. you can take a so so group you would get from somewhere online or at a pet store and turn them into the perfect tens within a generation with selective breeding ,good quality water and the right foods. Egg hatching and time is pretty typical as other blue eyes. I use my homemade green feed concoction. 5 to 50 µm GPs. Sera micron as first foods and then on to the live after a week. I keep the fry tank temperatures same as adults. Fry are pretty fast growing. Even when young easily recognizable and strong markings. The next time you see them being offered on aquabid or somewhere. Don't hesitate to grab them.You will not regret it!